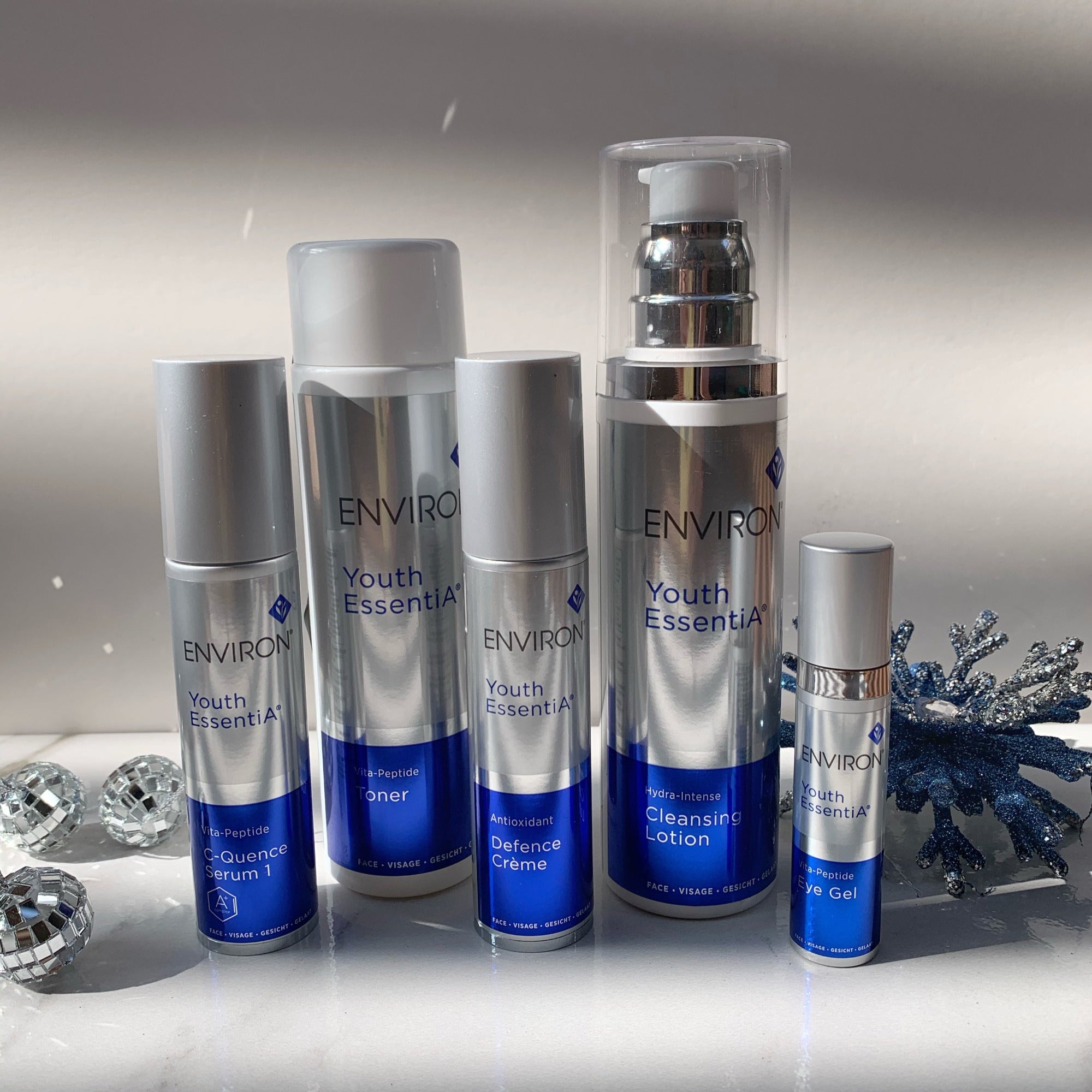 Environ Anti-Aging Complete- Value Set
$384.00
Regular price
$480.00
off
Hydra-Intense Cleansing Lotion – This luxurious conditioning cream cleanser is formulated to help remove make-up and impurities while maintaining the natural pH balance and moisture levels of the skin. Its moisturising properties help calm redness, leaving skin feeling silky smooth, refreshed and radiant.
Vita-Peptide Toner - A concentrated toner containing a combination of peptides that are known to act in synergy to help promote the appearance of wrinkle smoothing and improve the look of skin tone and elasticity.
Vita-Peptide Eye Gel - Environ Vita-Peptide Eye Gel has been specifically designed for use on the sensitive, delicate eye area. It contains peptides, essential vitamins and antioxidants which have been scientifically proven to combat the appearance of fine lines and wrinkles.
Vita-Peptide C-Quence Serum 1 - Environ C-Quence Serum 1 contains introductory concentrations of vitamin A, C & E to help combat the visible signs of ageing.

 

C-Quence Serum 1 is the first step in our signature Vitamin A step-up system and the ideal upgrade from Environ AVST.

 

C-Quence Serum 1 speeds up the restoration of skin cells, improving skin complexion, tone and texture - helping to maintain a radiantly youthful appearance.
Antioxidant Defence Crème - This powerful moisturising cream is enriched with several antioxidants that help to combat the effects of free radical damage. It also contains a dynamic combination of moisturisers that assist in improving the appearance of the skin, allowing it to feel soft, smooth and looking youthfully radiant.
Value $480   Savings $96
Gift Cards also available for services and products.  Please call 310-316-3365 or order online.
*Place your order and we'll contact you.

ENVIRON is a consultation only product line due to the very high levels of active ingredients. 
Environ Anti-Aging Complete- Value Set
$384.00
Regular price
$480.00