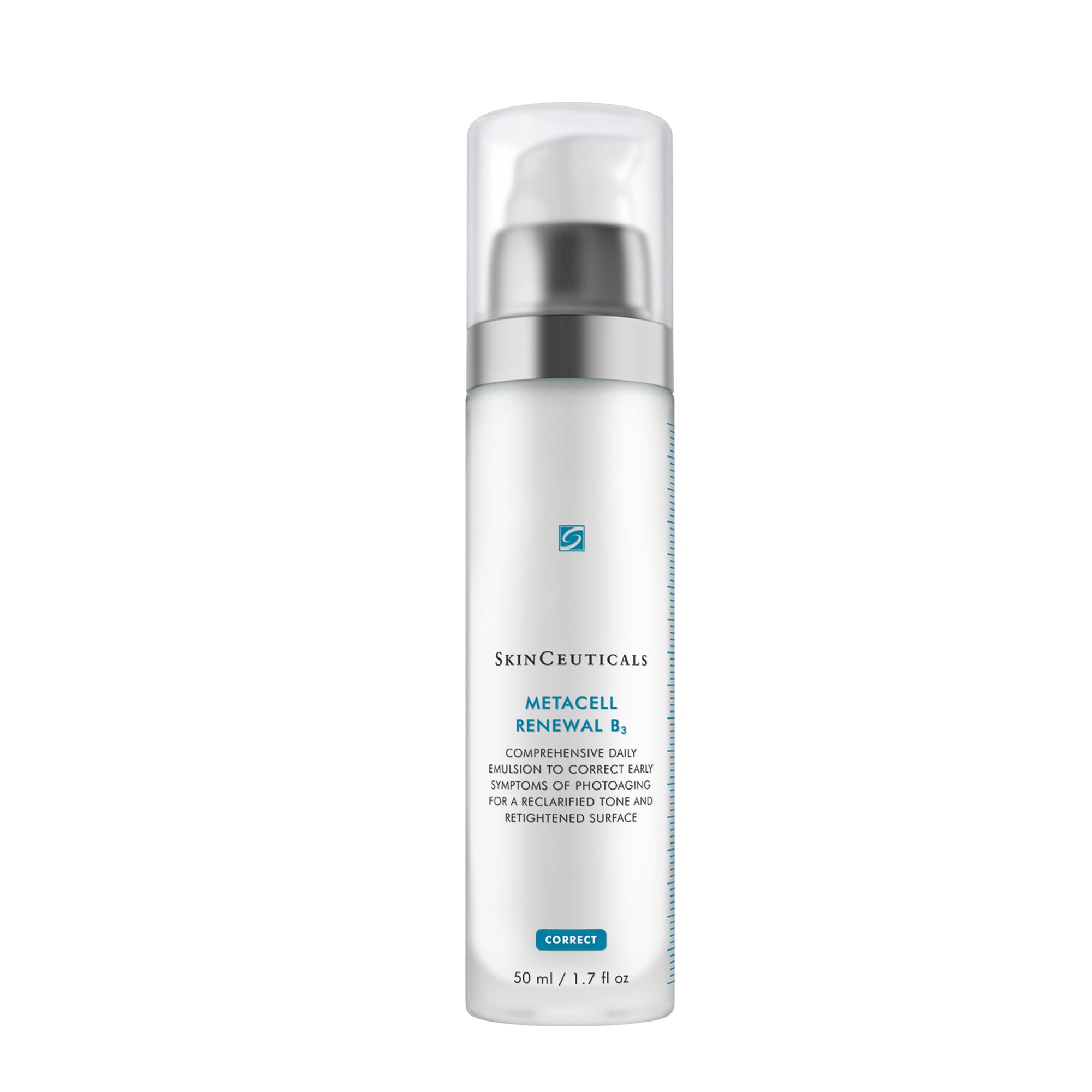 A comprehensive daily emulsion formulated to improve the appearance of early signs of photoaging. Visibly improves the appearance of wrinkles, uneven skin tone and radiance while supporting skin firmness and elasticity. Designed to promote cell turnover and reinforce the skin's barrier, this patented formula delivers a high concentration of active ingredients without leaving a tacky or sticky feel.  
SKIN TYPES: Dry, Normal, Oily, Combination, Sensitive
SKIN CONCERN: Sensitized, Dehydrated, Discoloration, Aging
FEATURES:
Metacell Renewal B3 utilizes a patent-pending aqueous emulsion to deliver a high concentration of 5% niacinamide (vitamin B3) combined with a firming tripeptide concentrate, and 15% pure glycerin to address early signs of photoaging. While signs of photoaging appear at different intensities according to skin biology, lifestyle, geography, sun protection behavior, and skincare regimen, they have a multiplicative effect, creating a prematurely-aged appearance. This comprehensive daily emulsion visibly improves these early signs of photoaging by increasing cell turnover to resurface skin, help reclarify and even skin tone, and improve the appearance of wrinkles and surface elasticity.

BENEFITS:

Promotes skin renewal by increasing cell turnover
Strengthens skin's moisture barrier
Reduces the appearance of discoloration and blotchiness
Lightweight emulsion delivers intense hydration without a heavy or tacky feel
Helps improve the appearance of skin's firmness
Apply twice daily to face, neck and chest.