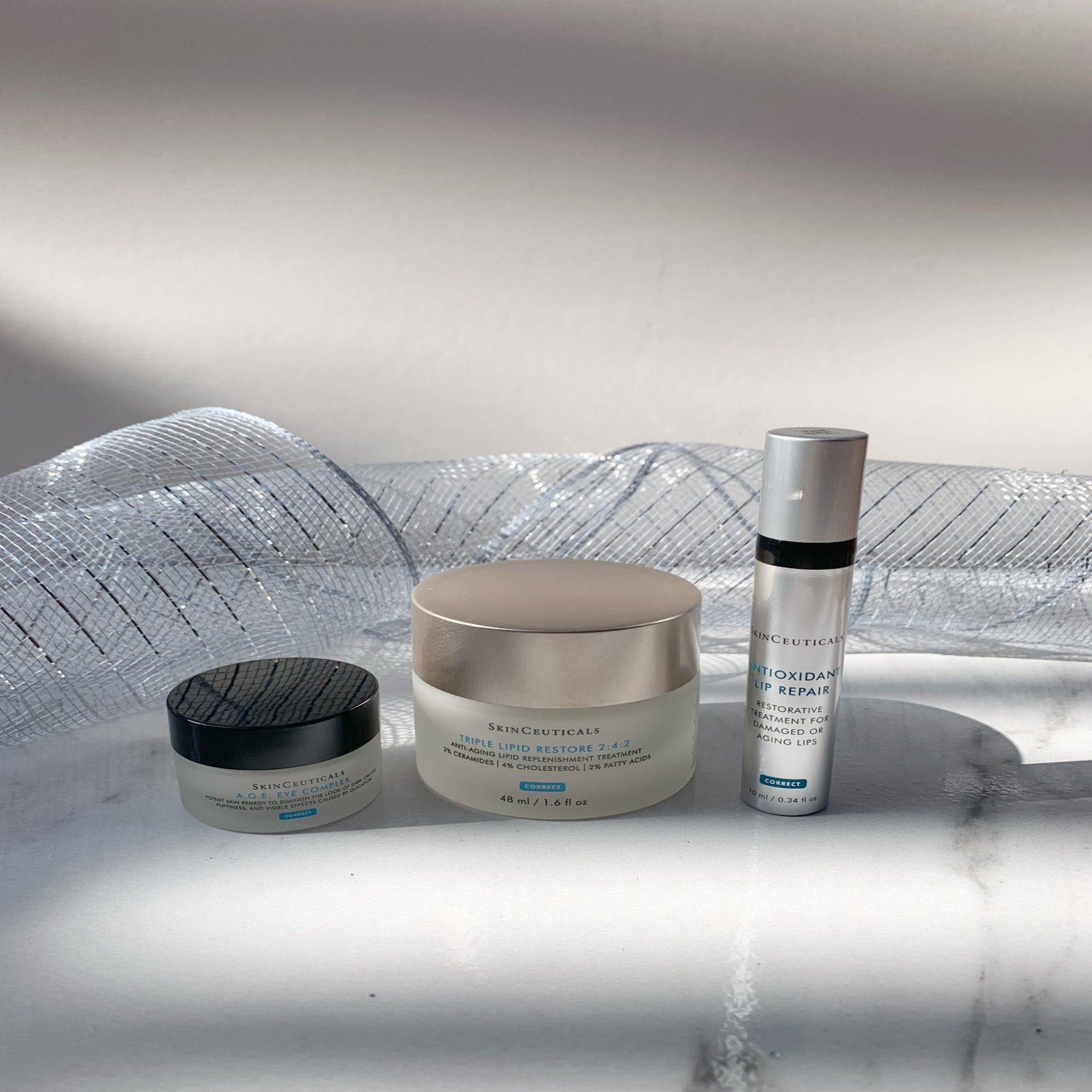 SkinCeuticals Hydrating Face - Value Set
$241.00
Regular price
$301.00
off
Antioxidant Lip Repair - This potent treatment helps fight the signs environmental damage, while smoothing and rehydrating the lip surface. Helps attract and retain water to rejuvenate, reshape and replenish lip tissue.

 
A.G.E. Eye Complex - A.G.E. Eye Complex is an advanced anti-wrinkle eye cream that improves the appearance of dark circles, puffiness, and crow's feet associated with advanced glycation end-products (A.G.E.), a major factor of the natural aging process. Reduces the appearance of crow's feet and wrinkles. Improves the look of dark circles and puffiness. Immediately enhanced radiance around the eyes.
Triple Lipid Restore 2:4:2 - Triple Lipid Restore 2:4:2 is an anti-aging cream that contains the optimal and patented lipid ratio of 2% pure ceramides 1 and 3, 4% natural cholesterol, and 2% fatty acids, which is proven to nourish skin and correct signs of aging. This unique lipid correction cream contains the first 2:4:2 cholesterol-dominant ratio to help restore skin's external barrier and support natural self-repair, while potently nourishing aging skin for improvement in the visible appearance of skin smoothness, laxity, pores, and overall radiance.
Value $283   Savings  $57

Gift Cards also available for services and products.  Please call 310-316-3365 or order online.
SKINCEUTICALS is a consultation only product line due to the very high levels of active ingredients. Products will be shipped after phone consultation, please call us directly at 310-316-3365.
SkinCeuticals Hydrating Face - Value Set
$241.00
Regular price
$301.00